Hip, Hip, Hooray it's Friday! I am so happy to see the weekend approaching as I am sure you are too! We have no big plans but many things we need to mark of the "to-do list" specifically the DECK. I am hoping we make some progress this weekend. Apparently, traveling and going to the beach, and birthday parties, and you get the drift don't really leave much time for finishing a whole project. So this weekend we are buckling down and doing as much as we can. Which really means, the hubby works and I attempt to keep Owen out of his way. Seems easy enough right? Well, not with this kid he wants to hold every tool, and be right on his Daddy's feet the entire time. Luckily, the hubs is really patient with him and loves for O to be his little "helper." But of course, having a little helper means things take much longer to accomplish. Ok, well that was a tangent that was unnecessary. Let's get to Five on Friday, and link up with the sweet ladies hosting!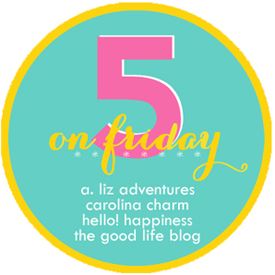 ONE-
This boy is loving Italian food lately. A few nights ago we decided to go enjoy a little Italian at one of our favorite spots. They have the best New York style pizza and great pasta. Owen enjoyed every bite of anything we shared with him. It's so strange to me how kids likes and dislikes are constantly changing. Before, he could care less about any sort of pasta and now he can't get enough! No complaints here, it's one of the easiest things to prepare for him.
(if you look closely you can see the little dot of marinara sauce on his nose!)
TWO-
This stuff is good. Really good. I have been eating waaay to much ice cream lately and this is one of my favs.
THREE-
Speaking of kids always changing. The first 12 months of Owen's life he was not a sleeper. I'm talking up at least once a night, if not twice and then right after he turned one he started sleeping. All. night. He was still waking up at 6:15am every morning but it was such an improvement from the past we didn't mind the early morning wake up in the slightest. Now, can you believe he has started sleeping until 7:30am every morning!! Yes, this is amazing for us, and the extra hour is glorious. I am just sharing this for any Momma's out there that were like myself and thought they would never sleep again, don't worry, there is hope. I promise!
FOUR-
Christmas Pajamas. Yep, I am already dreaming of all things Fall and Christmas and ordered Owen his first pair of PJ's for Christmas. I had a hard time finding cute one's last year and it was probably because I waited until the last minute to look-not this year! We are going to do our best to be ahead of the game with all things holiday!! And I can't wait!
FIVE-
Did anyone else love the mix matched bedding
Emily A. Clark
put together for her son's bedroom?! I am loving the mixed prints and of course, that cowboy print is right up my alley!!!
Happy Weekend!